Welcome to ANEMOMYLOS Lefkimmi in Corfu
Relax – Feel good – Enjoy
Dear Corfu vacationer, welcome to Anemomylos in Lefkimmi! You will find us in the quiet south of the island, surrounded by olive groves and idyllic sandy beaches. It is the perfect place for an uncomplicated feel-good vacation with authentic Greek flair.
What makes the All Suite Butique Hotel Anemomylos Lefkimmi special? It was completely renovated and refurbished in 2019 and 2020. The air-conditioned accommodations impress with high-quality furnishings, a homely ambience and cozy outdoor seating. With our free services, you can spend your stay in Lefkimmi carefree even without a rental car.
Your well-being, a family atmosphere and informal conviviality are very important to us. Let's feast, laugh and enjoy life together at one of our weekly barbecues. With Freideriki, the good soul of the house, you always have a dedicated contact person on site. She takes care of all your questions and always has an open ear for every guest. By the way, Freideriki is also a fantastic cook, who will be happy to conjure up real Greek specialties together with you in the outdoor kitchen. And with a bit of luck, you'll get to enjoy her excellent home cooking!
We look forward to welcoming you and your family as our guests, and are always available to answer any questions you may have!
Sincerely,
Your hosts Conny and Alois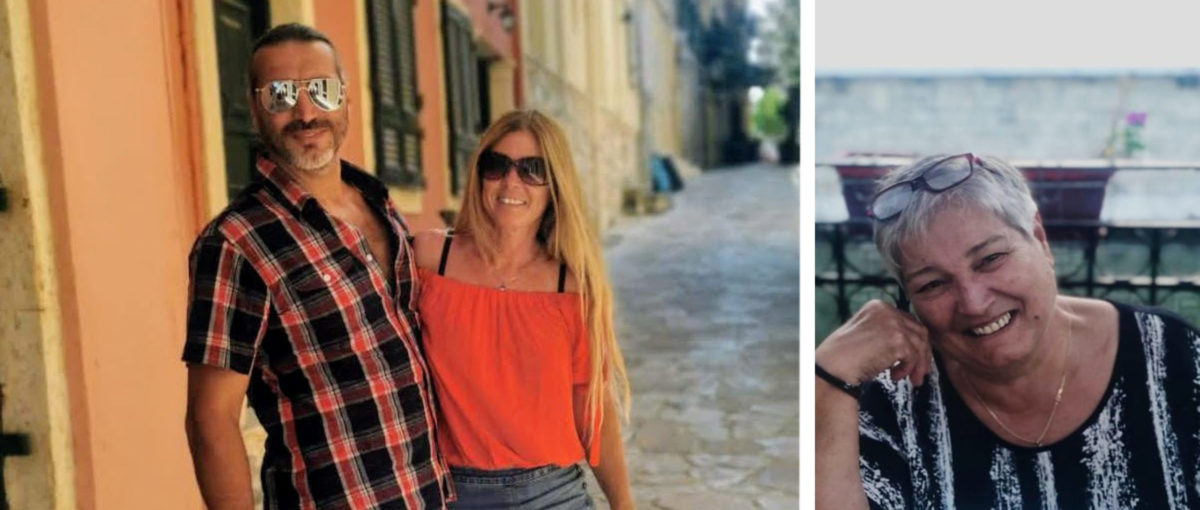 Our suites and maisonettes with sea view have been completely renovated and are equipped to a high standard. Relax in the comfortable feel-good ambience of tasteful furnishings and solid wood parquet flooring, sun-flooded rooms and magnificent panoramas!
You live in Lefkimmi in the south of Corfu, within walking distance of approx. 700 metres from the house you reach an almost deserted small sandy beach with crystal clear water. We will gladly take you to our "house beach" Bouka Beach every day with the free beach shuttle in just five minutes. Or you can get on your bike and cycle to the sea. Good restaurants, tavernas and cafés await you in the village. In the surrounding area, beautiful excursion destinations and quiet sandy beaches with crystal-clear water invite you to discover and spend relaxing days bathing.
With full occupancy, our family-run flat house offers space for a maximum of 35 guests. This means that we can respond personally and individually to your wishes and support you on site in all matters.
In addition, we offer a range of special services such as beach shuttle, shopping shuttle, airport transfer (for a fee), bread roll service in the morning, massage and pedicure (for a fee). You can find more details on the page of your desired accommodation under the tab "Extras".
Payment options deposit: bank transfer, credit card
Payment options on site: credit card, cash
You want to get to know the everyday life on Corfu authentically and in peace? Then Lefkimmi is the right place for you. The second largest village of the island is located in the wild-romantic south away from the tourist hustle and bustle. Between vineyards and ancient olive groves you can enjoy the most beautiful Mediterranean atmosphere. Small sandy beaches and warm sea water in sheltered bays offer the best conditions for a quiet and relaxing beach vacation.
Would you like to know more about our suites in Corfu?
Send us your questions!
Anemomylos Lefkimmi
Melikia
49080 Lefkimmi, Korfu
Griechenland
Tel.: GR +30 694 2297279
Tel: DE +49 176 87605010
E-Mail: info(at)anemomylos.com